The Commodore's Tactics Part III:
The Bow Sidemount
---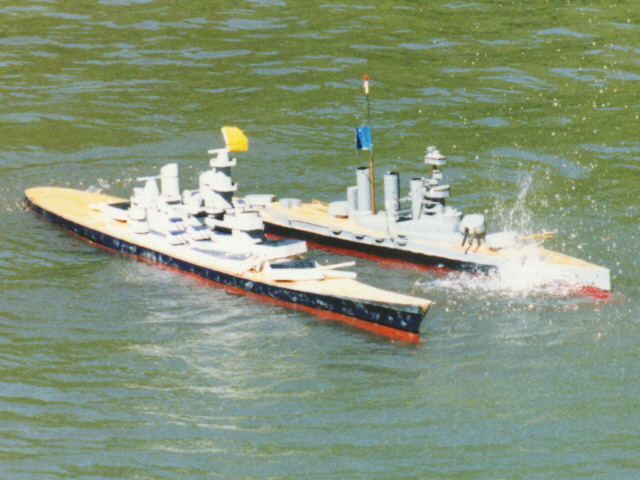 ---
Now that we've learned about the proper use of stern guns and stern sidemounts, it's time to turn to the last part of the triad - the bow sidemount. As you might have noticed, the stern gun and stern sidemount are primarily defensive weapons. They can be used offensively to great effect, but typically only with the enemy's cooperation, or by trapping said enemy. The bow sidemount is another matter. It's much more of an offensive weapon. However, the bow sidemount is also a vulnerable weapon, and if you don't use it properly, you will pay the price...
The bow sidemount is quite often the gun you put on your ship because you can't do anything else. Ships with only a single stern turret, or only two stern turrets typically have no choice but to use a bow sidemount if they are going to cover both sides. On the totem pole of gun effectiveness, I'd put the bow sidemount at about a 20. That is, if the stern gun is roughly worth 10 points per shot, and the stern sidemount is worth 35, I would put the bow sidemount at around 20, because usually get many more aboves with a bow sidemount than you do belows. It's a more difficult gun to aim, because it's impossible to get the same setup as you do with a stern sidemount, and the bow is much more difficult to move than the stern.
With this in mind, I would generally prefer to keep my sidemounts in the stern. However, in a North Carolina, the triple stern is the thing to have, so you're stuck with two bow sidemounts. Likewise, in a 5 unit Q.E. type ship, you only have two stern turrets, so you get a double stern, a stern sidemount, then a bow sidemount. In these cases, I would always prefer to have the bow sidemount, because a bow sidemount beats no sidemount, and leaving one side unprotected is always a very big mistake. Why? Because if you leave one side unprotected, that is the side that the enemy will attack, and if you can't defend yourself, you're sunk.
That said, let's discuss location and position of bow sidemounts. The preferred location for a bow sidemount is in A turret, angled back about 60-80 degrees from the bow. The reason I prefer this location is because it's closer to the deck than B turret. Obviously, if you have a North Carolina, or similar ship, you have no choice and must use B turret for your sidemount. The preferred range for a bow sidemount depends on the maneuverability of your ship, its freeboard, and what you intend to do with it. In a large, high freeboard, unmaneuverable ship like the Vanguard, I would prefer a sidemount with relatively long range, such as 15-18 inches. On the other hand, in a small ship like a Michigan, or Invincible, I might prefer 6-8 inches. The important thing to consider here is the maneuverability of the ship, and the shot trajectory.
Remember, I said that bow sidemounts are relatively difficult to aim, due to the fact the bow isn't as maneuverable as the stern? What this means is that you have to make the gun do as much of the work as possible for you. In the case of the stern sidmeount, that means that you make it barely clear the deck and have lots of down angle, so that you can bludgeon an opponent close in. No finesse required. In the case of the stern gun, that means that you mount it as low as possible and give it a decent amount of range, so that you can hit an opponent who is either directly behind you, or all the way out to your maximum range. The main intent behind both of these setups is to make it easy to hit your opponent with those guns. That way, you don't have to waste as much time worrying about aiming your guns.
However, the bow sidemount is different. For one thing, most ships have quite a bit more freeboard at the bow than they do at the stern, and you just can't avoid having the gun mounted relatively high above the waterline. As a result, it will always be possible for an opponent to get in below your bow sidemount, and that's why stern sidemounts and stern guns always beat bow sidemounts. I've seen some people try to put lots of down angle on their bow sidmounts, in hopes of getting enough down angle to beat stern sidemounts. It doesn't work. The other guy always has a lot more target to shoot at than you do, and if he's any good, he will chew your bow up and leave you limping away with the swiss cheese effect.
Okay, so how do you want to aim your bow sidemount? Well, it's really quite simple. Something I've hinted at in the past two paragraphs is a concept that I'll call effective range. What I mean by this is the area in which your bb will strike an area within 1" above or below the waterline. This is the area in which you can pretty much depend on hitting most opponents (except those with Badens or other ships with ridiculously low freeboard and casement abuse). You want to make sure that your gun's trajectory spends as much time in this area as possible. So... In the case of a bow sidemount, you want it mounted rather low, and you want it to have relatively shallow (10 degrees) down angle. You don't want it so shallow that it won't penetrate the water, but at the same time, you don't want it so deep that you can't bring it to bear on the enemy.
Another consideration is the location inside the turret that you use for your sidemount. I always try to put my bow sidemount in the forward most position in the turret. Especially in a triple turret. The reason is that in the center position, you can't get as much down angle as in the outer positions - the barbette is circular and sticks out further, getting in the way of your barrel. Also, that extra inch toward the bow of your ship gives you just that extra little bit more. Always take that extra little bit more, when you can get it...
So, now that I've said all that, how do you use your bow sidemount? Well, anybody can use their bow sidemount the wrong way. I've done it plenty of times myself, and still continue to on some occasions. I've said before that it's critical to understand your enemy, his capabilities, his gun locations, and his weaknesses. With the bow sidemount, that's even more critical. If you forget that your opponent has a stern sidemount, or if you don't realize that his triples are still loaded, you're likely to go away with a bow full of holes, and nothing to show for it. On the other hand, if you look over Fred's ship on Sunday, and notice that he has no stern sidemount on the port side, and his stern guns are aimed at the sky, you can know that you can pull up on his undefended port side and blast him with your starboard sidemount, with relatively little worry. The best sidemount captains are the ones who pay attention to what's going on...
Now that you know your enemy's capabilities, and weaknesses, now's the time to discuss specific tactics. To an extent, bow sidemounts are even more limited than stern sidemounts in what you can do with them. However, this is not so much because they're less versatile as because many of the things you can do with them are bad. So, here I will try to start by covering the good things you can do, and go down the list towards bad, because in certain situations, even bad can be good...
The Bow to Bow pass: This is fairly simple. You head bow on toward your enemy and make a strafing run past his hull. Don't stop. Shoot as fast as you can, and do your best to ensure that you're at the correct range for your gun, and at the incorrect range for his. This works best if you have better maneuverability than your opponent, and more skill.

Example: At Nats 1995, in the first battle, I made a run towards a gangrenous Tiger masquerading as a Kongo. The QE's bow sidemount was on the port side, and ranged at about 8". I made a careful run at about 10" range, and as we passed, I fired four quick shots. I counted his ship after the sortie, and he had four nicely spaced holes below the waterline. I don't think he managed to shoot back effectively.

The Bow to Bow slug: This is a simple variation. Find an enemy ship that is distracted trying to stern gun or stern sidemount one of your teammates, or is otherwise occupied and not moving fast. Aiming carefully, just pull up on the unprotected side of his bow with yours, take aim, and start shooting. Since he's distracted, he's not likely to notice until it's too late, and you're likely to get some free shots. This is fun... Take care, though and don't let yourself get trapped too. When he starts moving, hit the throttle and get out of there, and look for another target.

Example: The Moltke can be a very dangerous ship with two stern sidemounts and a stern gun. However, this means that the bow of his ship is unprotected and very vulnerable. I had fun at the 1993/1994 Nats by watching for when the Moltke was preoccupied trying to pound someone else. Then, I would sneak up on his bow and take some shots. Then, I would leave quickly, before he could pull up and get his stern sidmeount on me. Quite fun.

The Oreo Cookie: This one requires a team effort. If you have a local friend, practice with them. Typically, the both of you just look for an enemy ship that is distracted or waiting to be a victim, and then you pounce. With one of you on either side, they can't do a whole lot to get away, especially if they're not faster than you are. Be aware though, that if your enemy shoots back, one of you is likely to get in trouble.

Example 1: At the 1997 Nats, Jim and I noticed that the same gangrenous Tiger was sitting in the Allied area of the lake looking rather bored, sitting still and apparently waiting for something to happen. The two of us swooped down and caught him before he could get moving, and sandwiched him for about fifty feet. We broke the attack off before he could draw us into the middle of the Axis fleet. He sank shortly after that...

Example 2: Again, at the 1997 Nats, Jim and I also managed to surprise a Nagato. This one was very fun, because we got him sandwiched, and he started to turn left to bring his stern guns on one of us. Thing is when he turned left, he caught one bow sidemount. Then he turned right and caught the other bow sidemount. We went for several seconds with the Nagato zig-zagging between us, then we broke off and let him go for some reason or another. I don't recall if he sank that time, but he was pumping very severely...

Note: Both these cases worked for us because we understood the ships and capabilities of the captains involved in each case. We knew how to handle them properly and ensure that they would not be a threat to us. If we had tried this with a Baden and its stern sidemount, or another similarly dangerous ship, one of us would have regretted it...

The side to side slug: Okay, when you lose all finesse, you get the side to side slug. Simply put, this is where you just pull up alongside the guy and start pounding. There are two problems with this: If your enemy doesn't want to play, he'll just turn his stern or stern sidemount on you and blast you, then giggle. However, if he does want to play, your other problem is that he wants to shoot back. Don't let him do this. Generally speaking, you'll be approaching a slow moving, or stopped ship from the side, and then pull alongside at the last moment for the sidemount shot. Know where the location of your enemy's sidemount is, and avoid it. If he has a stern sidemount, stay away entirely. If he has a bow sidemount, try to pull in behind it, and shoot him amidships while his shots go into the water in front of your bow. Otherwise, if you're just trading round for round, it isn't worth it, and you should go away, quickly.

Example 1: At the 1991 Nats, a Derfflinger and I got into a sidemount blast fest. We traded about a dozen high speed rounds close in, and I was losing the exchange, because his sidemount had more down angle than mine. However, I backed up took some more shots from longer range where he couldn't shoot back. I think the overall result was inconclusive, and therefore not worth it, but it was fun...

Example 2: At the 1997 Nats, on Monday, I caught another Nagato and its captain wanted to play. We slugged side to side a little, and I used my acceleration and maneuverability to try to keep my sidemount more towards the stern of his ship. Things went well, and I even seem to have managed to shoot one of his battery connectors off, as he went dead in the water, and declared sunk shortly thereafter.

Run 'em ashore: This tactic works best against enemies that are between yourself and shore, and preferably slightly behind you, or slower than you. You simply take an angle on them, and pinch them into the shore so that they can't turn away. Then, you can park your sidemount in an appropriate location, and start in on #4. They are left with a choice: They can try to outrun you, they can try to hit reverse and out accelerate you (or eat triples), or they can try to run into you. None of them are pretty...

Example: At a local battle here in Texas, I put a hurting on a Bismarck, such that he decided to run for it in the second sortie. I settled in for a long stern chase around the lake, and when he ran out of lake, I cut the corner on him to make up for my speed disadvantage. He was taking on water and slowing down when I caught him up against the shore and started pounding. Unfortunately, he got off his five just before he sank. Oh, well...

The stern chase: This is bad, very bad. That is, if your opponent can shoot back. However, if your opponent is crippled, on five, or just so absolutely incompetent that you have nothing to fear, go ahead. If not, stay well away. Simply put, you approach your enemy from the stern. When he starts to turn away for a stern gun shot, you either cut the inside of the turn, or take a larger circle around the outside, depending on the situation, your maneuverability, and the location of your sidemount(s). Try to get your sidemount about a foot or more ahead of your enemy's stern, so that your shots will be (hopefully) hitting below the waterline in his stern quarter. If you are too far back, you'll only shoot over his stern. If your angle isn't good, or your bow sidemount is pointed too far forward, your shots will simply splash in the water parallel to the enemy's hull, as he's busy trying to keep his stern pushed into your bow. Again, if your enemy can shoot back, this is a very bad idea...

Example 1: At the 1997 Nats, a certain Bismarck was lumbering about where it didn't belong, so I thought I'd give it a bit of attention. As I approached from his stern, the captain let me catch him and headed into a starboard turn in an attempt to get his stern guns on me. However, he judged his acceleration wrong, and I was alongside him before he knew it. I think I pretty much dumped my starboard sidemount into his port side, at which point he ran onto Jim's stern guns. Oops. He sank shortly after that...

Example 2: With the ol' QE, I would often sneak up behind Axis ships that were sitting still for some reason or another, and just try to rush up their starboard side. Usually, once I got there, they couldn't get away even if they were faster, because they lost all their speed in a turn. I would shoot them until they either got away, or they got a gun on me, in which case, I left the scene quickly. Fun stuff, eh?

Example 3 (Insanity!): At the 1997 Springfield Fall Regionals, I decided I wanted to take the Konig down. So, at the beginning of the battle, I approached him from the stern with my bow sidemount. The Konig had no stern guns and two stern sidemounts, and very poor acceleration and maneuverability, even compared to the Tennessee. The Tennessee has a long range (18-24") bow sidemount, and I approached from that distance, and began shooting. He was trying to turn inside me, and I just made a larger, faster circle (+2 seconds), and kept shooting into his hull from long range until the gun was empty. That was fun... Then, I cut inside his turn, and pulled alongside with my stern sidemount and dumped that into the Konig's bow/midships area (ahead of his stern sidemount). Then, the Konig sank. The key here was that I had the maneuverability advantage, I knew the capabilities of his guns, and I used my maneuverability to keep my guns on target and his guns off target. That is the key. Kids, don't try this at home...
Okay, that's about all I can think of for the basic tactical moves. Like I said, it's not necessarily pretty. You really don't want to use your bow sidemount as a primary weapon, except against ships which are vulnerable and unable to shoot back effectively. Against more dangerous ships, your primary weapon should always be the stern gun and the stern sidemount. Then, once you've used these two weapons to reduce them to helplessness, then you can get them with the bow sidemount. Until then, keep it in reserve as a pursuit weapon.
On a related topic, I mentioned earlier that the bow sidemount is rather difficult to aim. Let me clarify this. When we kick our rudders back and forth, your stern swishes from side to side, and your bow just doesn't move a whole lot. Thus, it's easy to adjust the range for your stern sidemount, but much less easy to move the bow sidemount around, because the bow just tends to go where you point it. As a result, if you make a parallel attack on an enemy, you'll essentially be stuck with the range you come in at. You can swish your stern from side to side, but your bow just won't move much. So, when attacking a helpless/crippled/sinking/dead in the water/not moving enemy, I prefer to come in at an angle, typically so that my bow will be pointing at their side somwhat. That way, I can adjust the range by going backwards and forwards. This works very well, especially against ships which are unable to move for some reason or another. You simply pull up to them and start shooting. If you don't see splashes, back up. If you do, and they're right next to the enemy's hull, fire faster! If the splashes are too far away, move forward until they're right on target.
In the meantime, that's about all I have on bow sidemounts for now. Remember to practice, so that when the time comes, you'll know how to use them. Remember also to look carefully at the enemy ships so that you'll know their gun configurations and capabilities, so that you can use your sidemount to blast them in locations and circumstances where they can't shoot back, because that is the true way to victory.
---

Return to the Commodore's Tactics...